Beurre de massage Doux Néné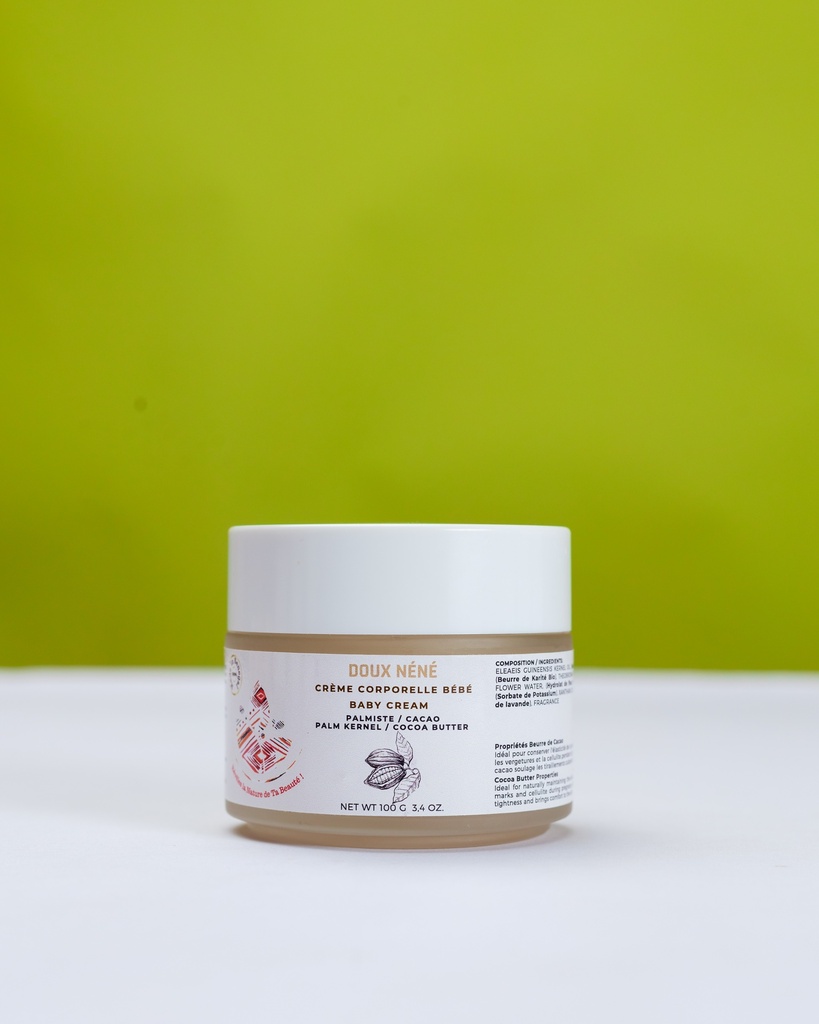 Beurre de massage Doux Néné
blalalalalalalalalalla
CONSEIL D'UTILISATION : Pour le massage journalier de bébé, prélevez une noisette de Beurre Doux Néné et appliquer sur tout le corps. Notre beurre de massage est inspiré de la recette traditionnelle des mamans en Casamance. L'huile de touloucouna va détendre les muscles de bébé et l'huile de palmiste et l'allantoïne laisseront sa peau toute douce et hydratée.
DIRECTIONS : For baby's daily massage, take a dab of Beurre Doux Néné and apply all over the body. Our massage butter is inspired by the traditional recipe of mothers in Casamance. The touloucouna oil will relax baby's muscles and the palm kernel oil and allantoin will leave their skin soft and hydrated.
COMPOSITION / INGREDIENTS : ELEAEIS GUINEENSIS KERNEL OIL (Huile de noyau de palme), CERA ALBA (Cire d'abeille jaune), BUTYROSPERMUM PARKII BUTTER ORGANIC (Beurre de Karité Bio), CARAPA PROCERA SEED OIL (Huile Végétal de Touloucouna), ALLANTOIN (Allantoïne), FRAGRANCE
Bienfaits du massage bébé à l'africaine (Damp) : C'est un massage assez tonique reconnu pour ses bienfaits préventifs et curatifs. Le massage africain est issu de la pratique ancestrale de nos "guerisseurs". Les gestes, les mouvements d'étirement, les pressions… vont faire oublier au bébé le corp maternel, et vont lui permettre de naître à nouveau... Le massage est réalisé peu après la chute du cordon ombilical et se répète quotidiennement jusqu'à la fin du deuxième mois il peut même se prolonger au delà.
African Baby massage benefits : It is a fairly invigorating massage recognized for its preventive and curative benefits. African massage comes from the ancestral practice of our "healers". The gestures, the stretching movements, the pressures... will make the baby forget the maternal body, and will allow him to be born again... The massage is carried out shortly after the fall of the umbilical cord and is repeated daily until the end of the second month it can even extend beyond that.