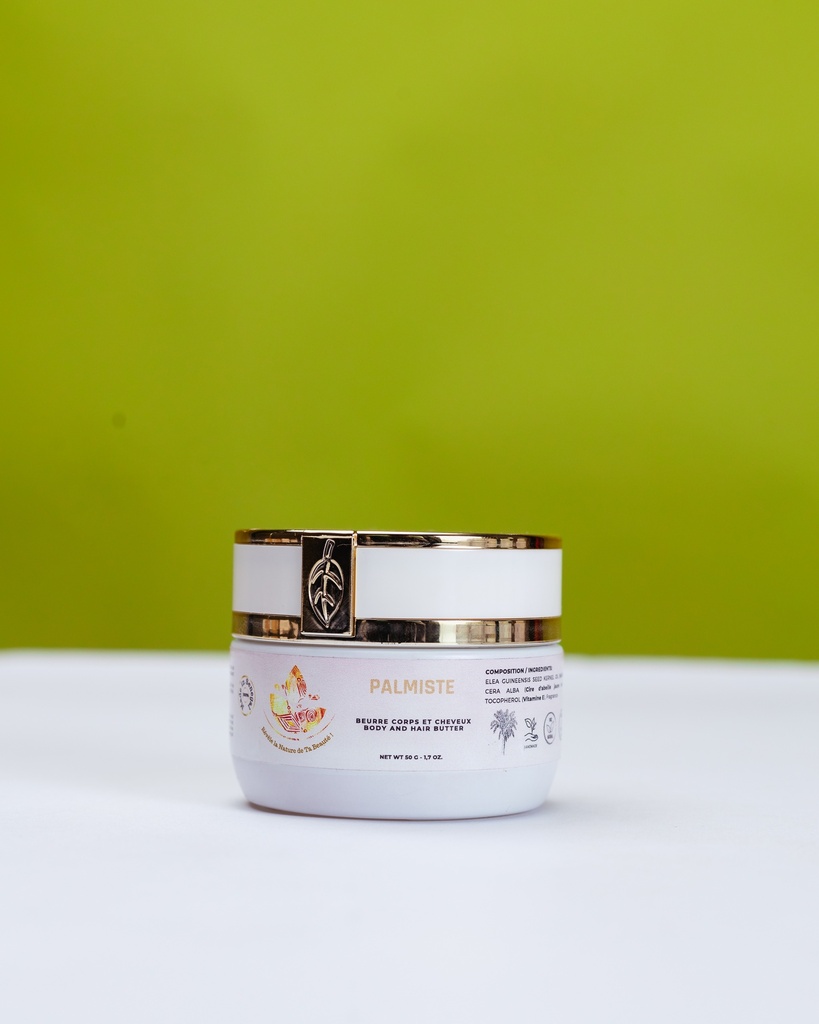 CONSEIL D'UTILISATION : Notre Beurre de Palmiste est conçu à base d'une huile de Palmiste 100% naturelle pressée à froid et de cire d'abeille jaune naturelle ce qui en fait un concentré d'actifs naturels nutritifs hydratants, adoucissants et réparateurs pour le corps comme pour les cheveux. Pour les cheveux : Utiliser pour sceller l'hydratation ou pour apporter de la brillance et adoucir les cheveux. Pour le corps : idéal pour les peaux sensibles ou eczémateuses et les peaux de bébé, Appliquer le soir au coucher sur une peau propre en massage pour faire pénétrer.
DIRECTIONS: Our Palm Kernel Butter is made from 100% natural handcrafted and traditional palm kernel oil and natural yellow beeswax, which makes it a concentrate of nutritious natural active ingredients that moisturize, soften and repair the body such as for hair. For Hair: Use to seal in moisture or to add shine and soften hair. For the body: ideal for sensitive or eczematous skin and baby skin, Apply in the evening at bedtime on clean skin in massage to make penetrate.
COMPOSITION / INGREDIENTS : ELEAEIS GUINEENSIS KERNEL OIL (Huile de noyau de palme), CERA ALBA (Cire d'abeille jaune non raffinée), TOCOPHEROL, (Vitamine E), Fragrance
Propriétés Huile de Palmiste Si vous en avez une utilisation quotidienne, l'huile de palmiste donnera à la peau un aspect très doux et souple. Elle rendra également votre peau très brillante, sans pour autant la rendre grasse.
Palm kernel oil Properties: If you use it daily, palm kernel oil will leave the skin looking very soft and supple. It will also make your skin very shiny, without greasy sensation.
Propriétés Cire d'abeille : Elle possède des propriétés anti-inflammatoires qui apaisent les blessures. Riche en vitamine A, elle nourrit la peau et facilite la cicatrisation.
Beeswax Properties : It has anti-inflammatory properties that soothe wounds. Rich in vitamin A, it nourishes the skin and facilitates healing.